How and why should every company integrate industry trends on its website
Industry trends on your website: the why, what, and how
It's no secret: we love content curation around here.
We encourage content teams, PR folks, educational organizations, non-profits, companies that want to build employee advocacy, and many others to trust the process of curating high-quality content.
From curated social posts and newsletters to fully fledged content hubs, you can support almost any marketing goal with content curation. Another excellent way to reap all the content curation benefits is the integration of industry trends and news to your website.
This will turn your website into a powerful tool that builds reach and trust with your target audience. Want to do it right? This guide is for you.
Why should you curate industry news on your website? The overview of benefits
Let's look at some reasons to make this integration part of your marketing strategy.
Become the go-to resource for your ideal reader
People are risk-averse creatures, and not being up-to-date on our industry is a risk. However, scouring the internet for all the latest insights is usually too time-consuming.
This is why people subscribe to newsletters and follow experts on social media. They want to get the new insights as they happen, in as close to real time as possible. Creating a dedicated space for industry news on your website can help your ideal reader cope with FOMO, the fear of missing out.
Own the traffic you send to curated content
When you curate content on a platform you don't own, like Twitter or LinkedIn, you build your audience and following on those platforms slowly and with a long-term impact in mind, which makes a lot of sense.
However, you can't take any proactive action specific to people who engage with that content.
On the other hand, when this feed of curated content exists on your website, you can take many specific actions, such as:
Draw your traffic towards a newsletter subscription

Retarget this traffic based on cookies, Facebook pixel, etc.

Use your website assets to direct this audience towards your own content
This means you can take action specific to your marketing goals with this traffic, which is a lot harder to do outside of your own website.
Repurpose curated content
Once a curated piece of industry news has been featured on your website, you don't have to stop there.
From here, you can share this piece of content across your social media, share it in a newsletter, or even write a blog post that adds your own, original insights to the topic. Each piece of curated industry news can get extra mileage on other channels you're active on and help you reach even more people.
What type of content is industry news you should share?
As always in marketing, the best thing you can do is to place yourself in your ideal customer's shoes and think about the news and insights you'd find the most useful if you were them.
You can use these types of content and examples to get inspired.
1. Real-time industry news
This general category includes anything that would be published on an actual news site to report something that recently happened in your industry. Obviously, the concept of news is different across industries, but a quick look at main publications in your industry will help.
Example for a social media agency: Google removes millions of negative TikTok reviews amid backlash in India
2. Industry trends
The concept of trends builds upon the idea of news, but trends are more of a longer lasting change.
For example, the introduction of GDPR regulation in 2018 wasn't just news—it was a change that created an industry shift in the way marketing is done from a data protection point of view.
Example for a video meeting software company: Why Remote Work Is So Hard—and How It Can Be Fixed
3. Original research and reports
Original data is always valuable, especially if you share it soon after it's been released. It brings fresh, yet unseen information in front of your audience and gives them something actionable to take away.
Example for an investment company: The State Of The Financial Services Industry 2020
4. Events
Upcoming conferences (live or virtual), as well as past events that have published videos of their talks online, are priceless.
If you can share specific topics as opposed to the whole event, even better—you can help your audience get focused on the best insights (instead of combing through hours of material to find something they need.
Example for a SaaS consultant: Business of Software Videos
5. Content from industry leaders
Is there someone in your industry that your audience inherently trusts? Someone that essentially everyone in the industry knows of? If so, share their content.
Example for marketers: A small business isn't simply a little version of a big business by Seth Godin
6. Webinars
Share upcoming and past webinars that your audience would love to watch. The more specific the topic, the better. Just like with everything else, people don't have infinite time to watch webinars. Your suggestions are a green light that a webinar is worth their time.
Example for productivity experts: Notion Office Hours: Building Public Pages
7. Interviews
There's currently more than one million podcasts, many of which are interviews. Interviews are an extremely valuable peak into someone's head, background, and life, and sharing expert interviews with your audience is invaluable.
Even better: many interviews are quite timeless, so you can go back through podcasts from the last few years and find some hidden gems that your audience may have missed back then.
Example for health professionals: Sleep Better With Help From Science Podcast
How to create the news and trends section on your website
Here's an existing example of integrated industry news and trends on a website: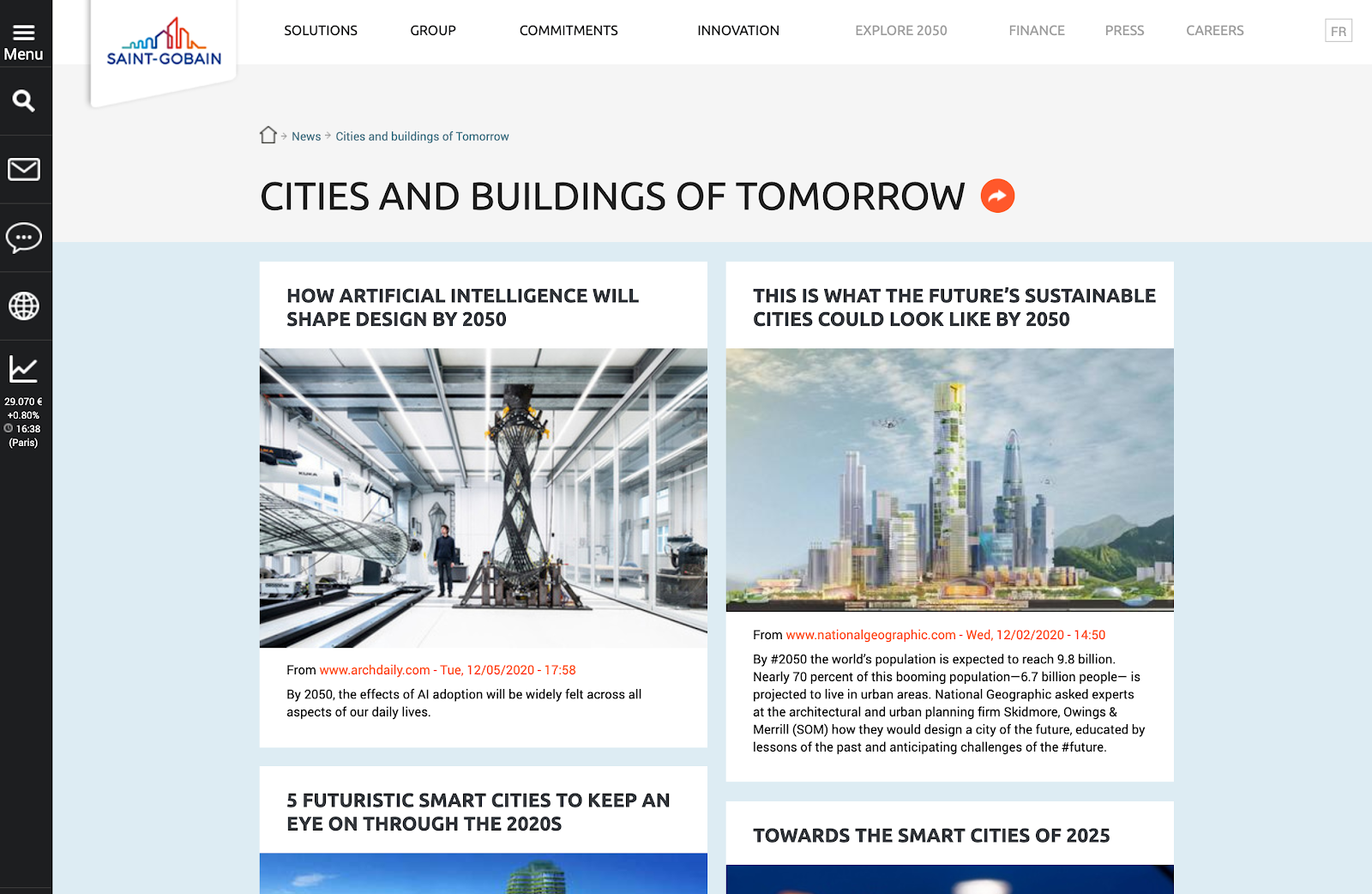 Now that you have an idea of formats and topics you can share on a regular basis on your website, how can you make it happen?
Here are a few options.
Embed a single RSS feed
If you wanted to add an entire feed from a website or a podcast, you could embed it as an RSS feed to a page on your website.
Of course, this would mean that everything that goes live on the publisher's blog or podcast also goes live on your website, so it's important that this is a source you trust.
Check out this guide for embedding RSS feeds to a page.
Build a news aggregator with a WordPress plugin
There are plugins like WP RSS Agreggator that allow you to connect various RSS feeds to a single plugin and publish this curated content on your website.
Same approach applies as above—make sure these RSS feeds are of sources you trust. This guide will help you set up the plugin and connect your sources.
Embed native content from social media
Social platforms, including Twitter, Facebook, Instagram, Pinterest, SlideShare, as well as YouTube, offer embedding options.
You'll usually find these in the options for each individual post. For example, on Twitter it's in the top right corner: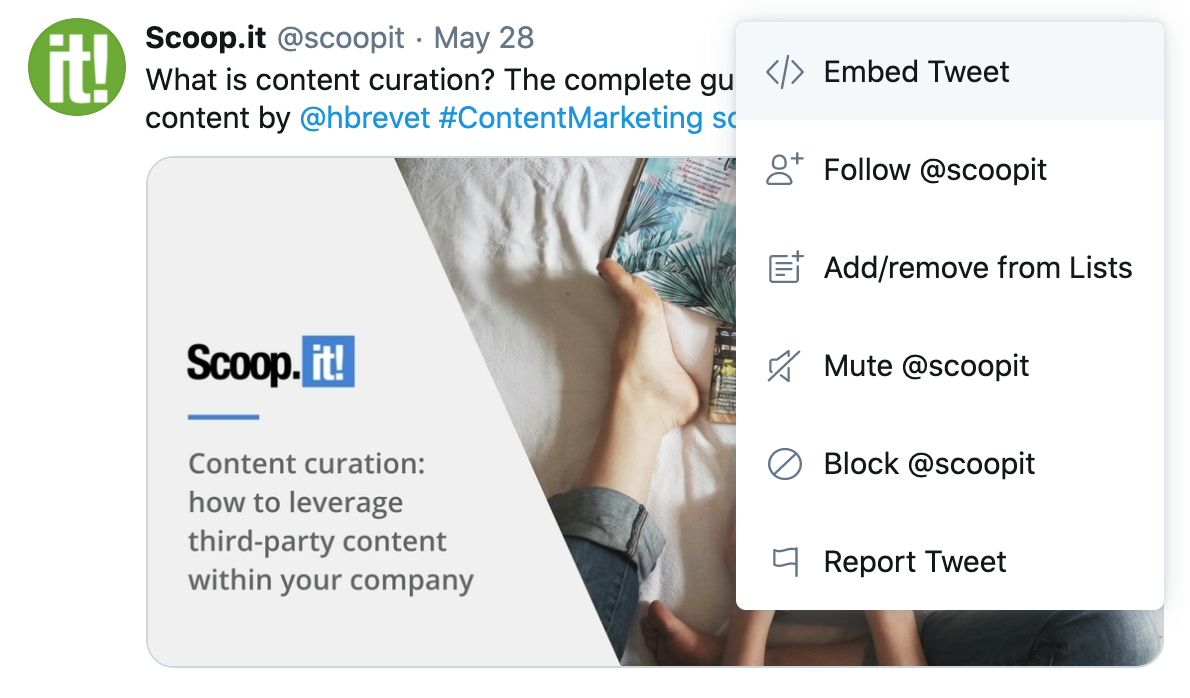 You can make your page with news and insights rich and interactive by doing this because embedding pulls native options such as likes and retweets, as well as GIFs, images, and more.
Embed curated content hubs with API
With a service like Scoop.it, you can create content hubs with all the types and formats of content we've mentioned so far and simply integrate it with your website.
This means that you can use features that were already made with content curation in mind, such as content alerts, monitoring, and discovery. You can simply curate content as usual with the support of a suggestion engine, keeping the news element in mind.
From here, you don't need to do additional work to make it a part of your website—Scoop.it's platform does that for you.
What will you do with industry news on your website?
Being a source of news for your audience brings you an advantage. It can help you turn casual readers into long-term supporters and loyal customers.
Remember: people need a trusted source of industry updates so they can be sure they're keeping up with changes and can prove their worth in their companies and to their peers.
You can be that source. Start by setting up the news page on your website and aim to build a process that will help you regularly uncover the best fresh insights for your audience.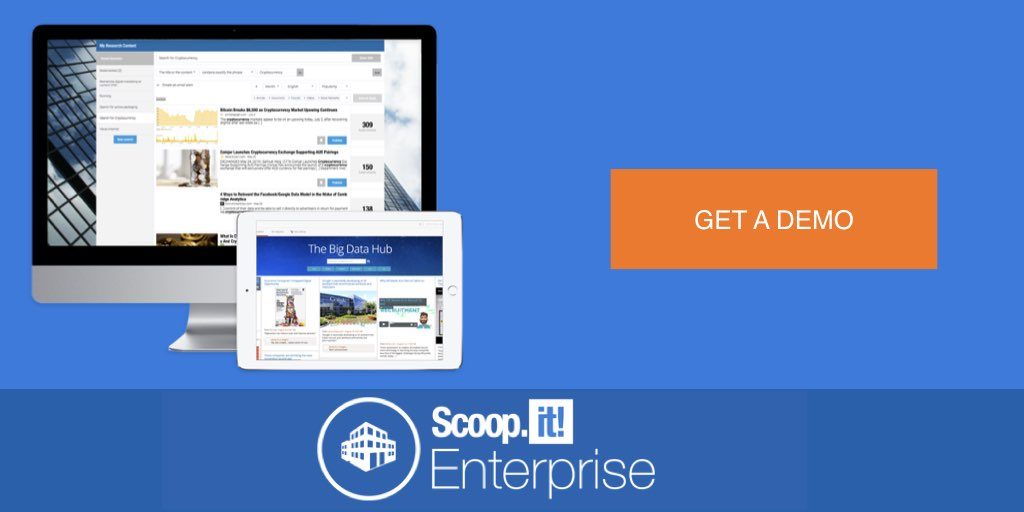 The post How and why should every company integrate industry trends on its website appeared first on Scoop.it Blog.